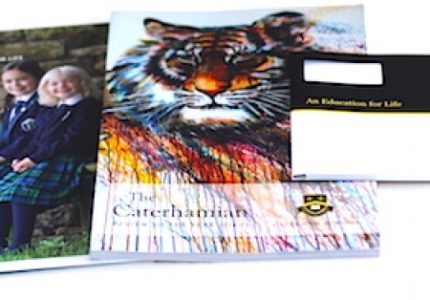 Prospectus Printing In Camberley
Our fast turnaround times, technical help and friendly, patient service has made us a preferred prospectus printer for many educational institutions.
Our team are dedicated to working in partnership with you to ensure your branding and messages portray your school at its best. We've supplied prospectus printing and design for schools and colleges in Camberley and across the local area.
Get a Quote
School Prospectus Design
We have a proven history of working with schools, colleges, nurseries and educational institutions. Our service includes eye-catching graphic design alongside high quality printing to create prospectuses to inspire students and their families. A printed school prospectus helps to ensure you have your audience's attention and means they are able to give more focus to finding out about your school. This will ensure what they find out about you is quality information at a comprehensive level.
If you already have a design in place that you would like us to improve or amend, or simply want to order prospectus printing then please get in touch. A beautiful and informative design can be let down by poor quality printing or finishing. In terms of prospectus printing, this could be poor colour work, flimsy paper or sloppy cutting and binding. Although this is important, you don't need to spend a fortune to achieve it.
We understand that budgets will be tight so we;re committed to supplying a high efficient service and can work to all budgets both large and small. A large print project can be daunting prospect but our team will take control from start to finish to give you peace of mind.
Our print and design services can also include banners, signs, posters and flyers - basically anything you need for your open days. Please don't hesitate to contact our team to discuss your requirements in detail.
Get a Quote
"Thanks for all your support and help over the years – 12 years and 133 editions. You've not missed a beat in all that time."
Andrew – District Scouts
"Thank you so much! Yet another speedy service! Really appreciated!" 
Ella Gardiner, Marketing & Comms Officer – Local Authority Organisation
"Thank you so much for the leaflets! They look amazing."
Harriet Brandt, Sales and Marketing Coordinator – Food Manufacturer
"We are over the moon with the outcome of the stationery… A really amazing job!"
Jay Dick, Lead Designer – Rawnet Ltd
"A huge thank you for the flyers for the K9 event at such short notice, and of course, for the urgent second run. Everyone loved it." 
Sara Kinge Manufacturer
"I just wanted to say thanks so much for the signs and arrows – they look great"
Collette - – Construction Company
"Thanks very much for producing the Banners for the London Bike Show. They look great!" 
Will Wood – IC Glove
– "Crown's great customer service makes them stand out for us. They always go that extra mile to make sure each job is done to the highest standards." 
Anna Coassin, Individual Giving Manager – Phyllis Tuckwell
"I can fully wholeheartedly recommend Crown as a printer. Fast, efficient, and very easy to work with." 
Cedric Taylor, Head of Print, Procurement & Production – Leading National Charity
"The best brochures ever produced! The Bristol team were stunned with their quality. Thank you so much." 
Emma Fisher, Marketing Executive Summer School